VEHICLE TELEMATICS FOR FLEET SAFETY
Vehicle Telematics and ELD Solution
Our GPS/telematics solution is powered by Geotab, an award-winning, globally-recognized leader in telematics technology. We integrate this solution with our own web-based Enterprise Fleet Safety Management system to help you make game-changing improvements in driver safety, fuel efficiency, preventive maintenance and operational costs. Advanced telematics technology cost-effectively puts a "supervisor" in every vehicle to monitor location, fuel consumption, engine health, speed and acceleration, harsh braking, and much more.
Our customizable online portal and risk identification system allow you to focus on what's most important, how often to report it and what action to take. When combined with our 1-800 'How's My Driving?' driver observation program, you are able to document a full range of unsafe driving behaviors that will give you a clear picture of where your fleet is most at risk. Analyze trends for individuals, fleet groups or the entire fleet. We help you convert data into a safer, more profitable fleet.
Need an electronic logging device (ELD) solution? Geotab's ELD solution, 
Geotab Cloud ELD
, is registered with the Federal Motor Carrier Safety Administration (FMCSA). With Geotab Cloud ELD, you can leverage a reliable and user-friendly fleet platform for tracking, managing and sharing records of duty status (RODS). All you need is a Geotab GO telematics device with a mobile device running the Geotab Drive app (available for Android and iOS). Unlike hard-wired or Bluetooth paired solutions that use a time-based approach with periodic status checks, the GO device continuously records and transmits data to the cloud-based MyGeotab fleet management software to effectively monitor and record Hours of Service (HOS), including RODS and Driver Vehicle Inspection Reports (DVIRS).
Safety-based vehicle telematics stats:
45% fewer vehicle accidents
75% reduction in speeding events
90% improvement in seat belt usage
80% reduction in aggressive driving (e.g., hard cornering)
Operations-based vehicle telematics stats:
25% fuel savings
30% drop in idle time
10% fewer miles driven
14% lowering of maintenance costs
15% spike in productivity
20% increase in vehicle utilization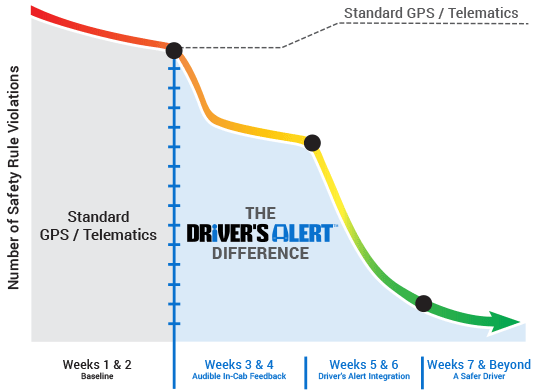 RISK & SAFETY
Significantly lower insurance, claims and workers' comp costs
Monitor and correct unsafe behaviors in real time with our in cab driver coaching
Use historical data to identify high-risk drivers or trends
VEHICLE PERFORMANCE
Reduce fuel costs by decreasing idling time, speeding and other inefficient driving behaviors
Monitor predictive engine health data
Limit wear and tear by ensuring targeted maintenance
COMPLIANCE
IFTA Fuel Tax Reporting
Ensure FMCSA compliance with reliable, time-saving tracking and recordkeeping of Hours of Service and DVIR
Use "accident memory" to help reconstruct accidents and aid legal efforts
MANAGEMENT RESOURCES
Streamlined online dashboard and carefully filtered email alerts consolidate data into actionable items
Prevent information overload for fleet managers
Eliminate redundant or irrelevant data
WHAT OUR CUSTOMERS ARE SAYING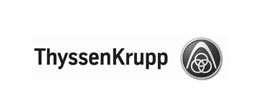 "We were reluctant to use Driver's Alert in the beginning because ThyssenKrupp Elevator had already established its own best-in-class call center, including the implementation of our own 'How's My Driving' program. The process of receiving calls and notifying our branches worked well, but to enhance the success of the program we realized we needed to add or refine other elements related to tracking, reporting and driver's safety training."
– TOM ARMSTRONG, Director of Fleet Management, ThyssenKrupp