Sight is usually considered to be the most important of your 5 senses, which is why it is important to take good care of your eyes.
Why is Your Vision Important in Driving?
90% of driver information is visual. The ability to have good vision is a vital part of driver fitness. A recent study has shown that 1 in every 5 drivers suffers from a vision defect that can affect their driving performance. This is particularly disconcerting as 90% of all critical decisions that drivers make are based on sight.
Having good vision is essential for safe driving and even a slight compromise in your vision affects how well you can see objects in the distance. It is absolutely essential to have good vision in order to safely complete everyday driving tasks.
Did you know that 23% of drivers have uncorrected vision on a global scale?

5 Problems due to Bad Vision
1. Loss of Vision Increases Your Risk of Death
Loss of vision interferes with a person's ability to complete basic tasks like driving. Researchers have discovered that people suffering from bad vision showed a 31% higher mortality risk during the 8-year study period. Another study indicates that 60% of all road accidents can be linked to bad vision.
2. Vision Loss Has Been Linked to Depression
Adults suffering from degraded vision were 90% more likely to be depressed than those with no vision problems, according to a 2013 study. Researchers have found that more than 10% of people living with vision loss reported symptoms of major depression. The study also discovered that the prevalence of depression was 11.3% among those suffering from vision loss, compared to 4.8% among people with no visual impairment.
3. Vision Loss Can Cause Anxiety
A study conducted in 2007 found that the loss of visual field function—the total area in which objects can be seen using peripheral vision while the eyes are focused on a central object—raises the risk for anxiety in older drivers.
4. Reduced Vision Quality Due to Dry Eyes
Most people believe that the main focusing lens of the eye is the cornea, but that is not the case. The cornea exists to create a lens made out of your tear film. If you have dry eyes then you suffer from poor quality tear film. This reduces the quality of your vision, particularly at night.

5. Scratched Eyeglass Lenses
Over time, eyeglasses develop scratches and pits in the lenses, negatively impacting optical quality. This blurs your vision and causes glare issues, particularly from oncoming traffic. Periodically replace damaged lenses. Ideally, look for lenses that employ an anti-reflective coating.
7 Driving Tips for People Who Suffer from Vision Loss
If you have trouble seeing in low light, consult an eye care professional who may use special charts or other equipment to identify any vision problems. You may be a candidate for prescription night-driving glasses, even if you don't wear glasses during the day.
Ask your eye care professional for glasses with anti-reflective coating which reduce sun or headlight glare, giving you sharper driving vision.
If you suffer from dry-eye syndrome, treat it immediately. This eye condition will cause you to experience light scatter.
Keep your car in sound working condition to eliminate interference with good driving vision. Clean your headlights, windows and mirrors before driving at night. Use your window defoggers in bad weather. Drive slowly and turn on your high-beam headlights in dark areas when there is no danger of interfering with other drivers' vision.
If you are planning on buying a new car and you can afford it, consider models with built-in night-vision systems. Some systems utilize Infrared cameras that can detect people and animals and alert you to their presence by projecting an image on the dashboard or windshield.
Contact lenses provide you with a natural and unobstructed view of the road along with fewer distortions to enhance your seeing and driving ability.
LASIK eye surgery is a simple and permanent solution for improving your driving vision. Cumbersome, temporary solutions such as eyeglasses and contact lenses become a thing of the past.
If you or someone you know suffers from vision problems, it can make the already dangerous task of driving that much more risky. Temporary vision correction solutions might work, but they also have limitations. A permanent solution to your ailing eyes might be exactly what you need to once again feel confident about getting behind the wheel of your car.
About the Author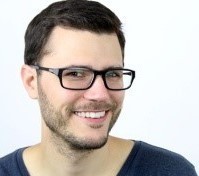 Aaron Barriga is the online marketing manager for Insight Vision Center. With a knack for understanding medical procedures and an interest in eye and vision health, Aaron loves to share what he knows and what he learns. He blogs with a mission of informing readers about the latest eye care technology and other topics related to eye care, especially LASIK. He loves collecting coasters from the different bars and restaurants he visits during his travels.